I started to do some research about people who lived in my hometown, Miramichi, NB, Canada and came across some pretty interesting people. Among the notables is Francis Peabody, originally from Massachusetts.
Last year, I was on a World Photo Walk with a crew from the city and I took some pictures of the statute Chatham/Miramichi had made of Francis Peabody sitting on a park bench in Waterford Park.
Here is a brief history of Francis Peabody who later became known as the Father of Chatham.
FRANCIS PEABODY
CHAPTER I
Francis Peabody is best known as "the founder of Chatham." He was born in Boxford, Massachusetts, in 1760. Thirty years later he had a trading business centered in Halifax, Nova Scotia. In 1799, he visited the Miramichi on one of his trading journeys. He liked the area so well that he moved here in the next year.
At that time, the Miramichi had no important villages or towns. The only way to travel was by water. Newcastle had started to grow on the north side of the river. But Chatham was just wooded land. There were no schools, bridges, or churches.
In 1801, Peabody bought a large piece of land near the edge of the Miramichi. In later years, this was to become downtown Chatham. Peabody built a small home on the waterfront. On his land was a large tree. He used to tie his trading boat to this tree and trade from the boat.
Before long he became the most important businessman in a quickly growing town. In 1838, he built a large new home. It was built near the present-day N. B. Telephone Building in downtown Chatham. Peabody used part of his home as a store. This building is no longer standing.
Peabody named his new village "Chatham" He did this in honor of William Pitt, the Earl of Chatham. Pitt was an important person in the English government at the time.
In the 1820's and 1830's, Peabody's business continued to grow. He built a shipyard at England's Hollow in the east end of Chatham. He also had a sawmill built upriver near Blackville, New Brunswick.
When he died in 1841, Peabody was the best known businessman on the river. He was a fair and just person. This made him very well-liked. Peabody had shown the kind of leadership that caused other businessmen to follow in his footsteps to Chatham. Chatham quickly grew into New Brunswick's largest town. Francis Peabody was truly one of the Miramichi's great people.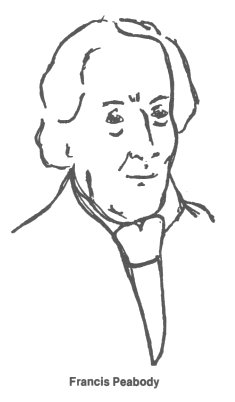 Here is a link for more info on Francis Peabody:
I also came across a picture I took of a statute of a clown that was in a graveyard in Pictou, Nova Scotia. David Gunning from Pictou wrote a song about this clown called Twitter's Song. This man was a clown in carnivals and toured the world. He was a beloved man and the people of Pictou erected this two foot clown statute on his grave.
Keep in mind, he was given this nickname of Twitter long before the world of twitter we have now.
to join fellow sepians for an interesting assortments of statutes, monuments, flags and the like.